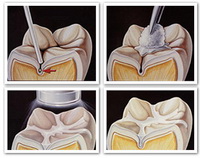 When the child starts growing permanent teeth – at around the age of 6 or 7, when the first permanent molar comes forth, the newly grown tooth must be protected from the possible caries over the bite area.
Sealing fissures (little grooves and pits) belongs to those preventive procedures and does not require tooth polishing. It is therefore completely painless while the procedure lasts for minutes only. It also includes cleaning the tooth surface, in order to remove all remnants of food from the tooth and have it prepared for sealing. Liquid or gel for enamel etching is applied to the tooth, which is further washed and covered with a special resin in those endangered areas. A lamp is then used to harden the covering material.
A well placed and regularly controlled seal represents a lasting tooth protection against caries.