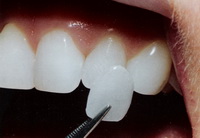 It is fairly hard to smile freely if your teeth are irregular, broken or have changed hue.
Using ceramic veneers, your dream of the perfect smile can come true.
Ceramic veneers are very thin ceramic scales that are fixed to the outer tooth surface. They afford the options of changing tooth colour and shape as per patient's requirements. In certain cases, they can even prove a sound alternative to orthodontic therapy.
They are resistant to discolouring caused by coffee, tea and cigarettes.
Veneers belong to those procedures with minimum invasion because it is only a thin layer of the tooth that is removed, while the larger part of the tooth remains untouched.